Bonus #5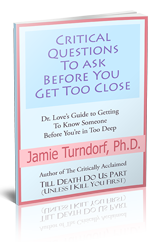 Look before you leap!
Making the right choice of partner to start with can save you weeks, months, years, even a lifetime of pain and disappointment. Discover how much you have in common in 22 areas such as life goals, religion, friends, career, and more, with over 100 questions to consider as you get to know someone to determine your basic compatibility.
With the right questions, you'll be empowered to steer clear of people who may be right for someone else but not right for you.