Bonus #3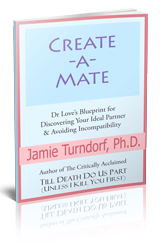 Create-A-Mate:
Dr. Love's Blueprint for Discovering Your Ideal Partner & Avoiding Incompatibility
.
Can You Tell Mr. or Ms. Right from Mr. or Ms. Totally Wrong?
After poor relationship skills, unfinished business, and Old Scars, the number one cause of failed relationships is simply incompatibility.
One of the greatest obstacles to choosing your ideal mate is not knowing what type of person is right for you! This guide will help you create the profile of your ideal mate, the partner of your dreams.
Knowing who is right for you is your first step on the path to lasting love. Stop wasting your time and energy on the wrong partners!